ARTographer Ric Wallace, also known as the Postcard King Of South Surrey and BC, is excited to be the FIRST White Rock Beach ARTIST to OFFER 8″ x 8″ mini canvas prints (he still offers his 16″ x 20″, 24″ x 48″ and 30″ x 60″ canvas prints, also 20″x 28″ acrylic prints ). These mini canvas prints are ONLY offered for sale at the waterfront Artist walk location (weather permitting) or directly from Ric Wallace – see card below.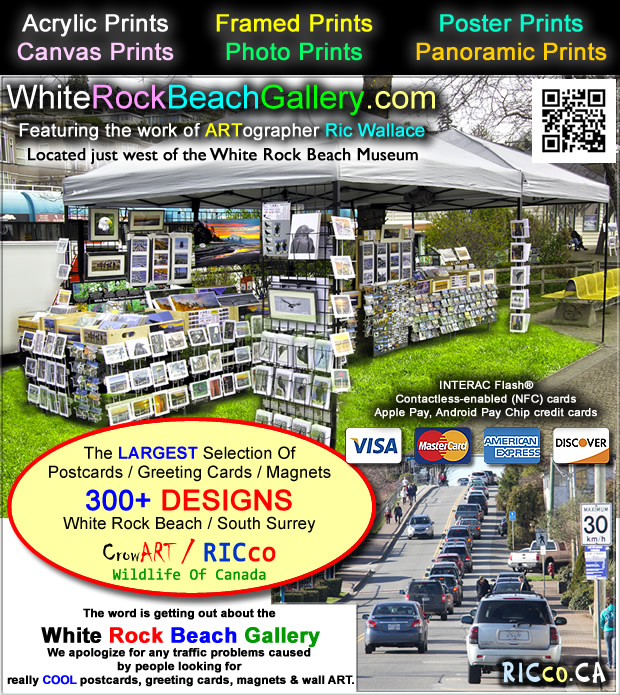 The cost of these MINI Canvas Prints is $80 all taxes included.
Add a table top easel for $40 extra all taxes included.
FREE White Rock Beach greeting card with every
8″ x 8″ canvas print purchased at our tent at the west beach.
These will cater to lower budgets and help fill small spaces with his ARTography. During the many times he had his tent set up at the west beach at White Rock Beach, he noticed many people were looking for photos for small spaces, such as bathrooms, gifts, or something tourists can take back home without getting broken in their luggage. Glass framed prints in luggage will most likely get broken because of the way airlines handed your luggage.
Outside Frame Size 25″ x 49″
in stock
Canvas Size 30″ x 60″
in stock
Ready To Hang On The Wall