White Rock Postcard Photographer on Shaw TV
    Biography
Ric Wallace considers himself to be an ARTographer, which he defines as someone with a strong background in photography, as well as an aptitude for graphic design and the ability to combine the two into one art form, digitally, on a computer.
Click for Larger View
On the photography side, Ric has mastered lighting, composition, and the ability to see the world from a non-traditional viewpoint. He often incorporates shapes silhouetted in photographs for impact and visual interest.
Often when taking a photograph, he thinks more like an artist or an art director than a photographer. Ric doesn't just see the image before him; he visualizes its future use in a variety of products and/or media. He knows how to attract attention in order to promote his ARTography.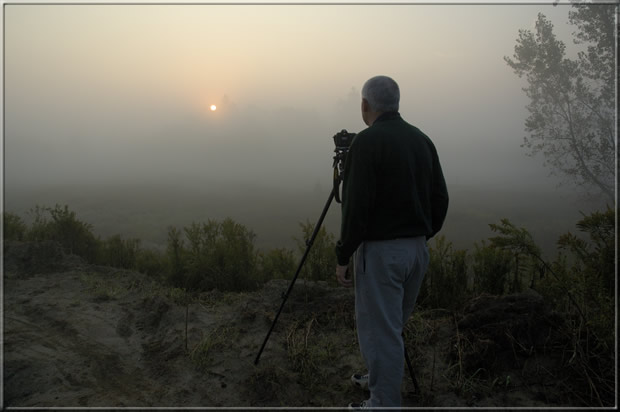 In 2011, he travelled by car three time zones as far west as he could in Canada until he reached Tofino, BC on the west coast of Vancouver Island. He started working his way back in the direction of Ontario and happened to visit White Rock, BC – a place he had never heard of before. With August temperatures of 21 to 23C, White Rock was very appealing compared to southwestern Ontario temperatures of 40 to 50C with humidity and hail storms. As a bonus, Ric even found they grew palm trees here! Spending just one winter in White Rock convinced Ric to stay and make the west coast his new home.
Back in 1995, Ric's love of nature photography – and, in particular, wildlife – led him to create an entire line of photographs dedicated to white squirrels. He marketed those images locally, but it was time to try online promotion. And so, it was the white squirrels that created a need for him to learn website design. After 19 years, he is still actively promoting his white squirrel photographs.
What he did for the white squirrels, he saw an opportunity for the "white rock" that gave this community its name. Three of his blogs/websites had over 1.25 million visitors in 2012 alone!
Even though White Rock Beach is a popular destination, Ric Wallace believes the opportunity for increased tourism is unlimited. After all, White Rock is known as "the hole in the sky," so the sky is NOT the limit – the moon or the stars are!

---
Curriculum Vitae for Ric Wallace
Currently lives and works in White Rock, BC
Education
Fanshawe College of Applied Arts and Technology
1983 Advanced Photography Diploma
1982 Photography Diploma
Televised Appearances
2015 Discovery's Family Channel (U.S. network show)
2014 go! Vancouver (now known as go! West Coast) segment on White Rock
2010 TLC (The Learning Channel) U.S. network show
2004 – 2010 A-Channel News, London, ON
2004 Rogers Cable 13
1987 TV Mini-Series Amerika – Appeared as an orderly operating a stretcher from an ambulance (met and photographed Kris Kristofferson)
Stage Appearances
When I was in grade 3, I appeared as Tiny Tim in a grade 8 production of Dickens' A Christmas Carol


Newspapers and Magazines
2015 Nanaimo Daily News
2015   Peace Arch News – (fireworks photo on front cover in colour)
2014   Woman's World
2013   Peace Arch News
2012   The Now Newspaper
2011   The Globe and Mail
2002 – 2010  The London Free Press
2006   Harrowsmith Country Life
1994   National Post
Other media in both Canada and the United States
CJBK AM radio – London, Ontario
AM 980 – London, Ontario
CBC Radio more than a dozen times – Toronto, Ottawa, Montreal, Vancouver
WAKR – Akron, Ohio with Ron Horner
Canadian Newspapers in Exeter, St Catherines, Milton
American Newspapers: Akron Beacon, Daily Kent Stater, Record-Courier, The Miami Herald, Philadelphia Daily News, The (Columbia, S.C.) State, The (Monterey County, Calif.) Herald, Rubbercity.com, BGnews.com, timesleader.com, Macon.com, siliconvalley.com
Various websites: Canoe.ca, Walletpop.com / Dailyfinance.com, TheGlobeandmail.com
Volunteer Photography
1998 – 2006 Habitat for Humanity of London, ON: provided photography to fully document yearly builds